African Scam Investigator South Africa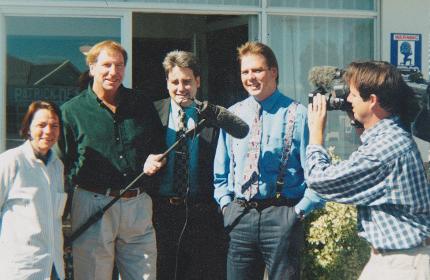 Patrick de Marco PI
Internationally recognised as a top private investigator, Patrick de Marco has had some of his successful investigations featured on television programs like Carte Blanche (M-Net South Africa) as well as in local and international media publications, including The Sunday Times, The Readers Digest and various others.
Consultations
Patrick de Marco consults nationally and by appointment only. His strategic services, private investigations and intelligence gathering assignments are activated nationally or even internationally within a few hours of taking instructions.
Professionalism, integrity, dedication and confidentiality is guaranteed.
Unfortunately Most International Romance Scams originate in African Countries!
Hire an African Scam Investigator in South Africa. As the leading scam investigator in South Africa, Mr Patrick de Marco correlates sensitive intelligence gathering and private investigative requirements for private individuals with reference to internet romance scams and online dating site scams in South Africa, Africa or Internationally.
Romance Scams in South Africa
Did you know?
Romance scams and romance scamming syndicates in Africa and around the world often have hierarchical structures, where romance scammers work in groups and in shifts, and follow a proven procedure. Romance scammers in Africa have scripts to follow and they even get advice from more experienced members of their group when scamming you.
The successful romance scammers typically ask a lot of questions about the victim's dream and weave this fairy tale into a reality he or she can provide, being attentive, sensitive, caring, empathetic, and patient to build a connection with the romance scam victim. Their well-concocted stories tug the heart strings of a victim, and they keep pulling those strings until they have you under an influential spell. Then the requests begin.
While some romance scammers in Africa profess undying love in record time, others patiently court their mark for months before asking for money. Sooner or later, the romance scammers will ask for money to be sent. The amount constantly grows and the requests never stop, each accompanied with legitimate-sounding reasons. Varied and imaginative requests for money are common, usually attached to financial emergencies for example an accident, travel expenses, medical needs for a child, and for those posing as military, pursuits outside deployment such as transportation costs, communication fees, and medical fees. All very legitimate reasons and you will never know the truth unless you hire an african scam investigator and investigate him or her professionally before it is too late.
Is he or she real?
Many romance scammers around the world claim that they are from South Africa or working in South Africa when in fact it is not true. They claim they are on business or working in Johannesburg, Cape Town, Durban or in other places in and around South Africa or Africa. It is not always the case that your online lover is trying to defraud you but by the time you read this you are most certainly (at this stage) uncomfortable about something. You not sure? Simply hire us today to prevent further financial losses, including your heart and mind being stolen by a romance scammer online.
Finding out what exactly the situation is before you confront anyone is absolutely essential and this is where our services may become very useful. Contact us and we will investigate your confidential matter or your current concerns very discreetly (and covertly) and revert back to you if this person is "the real thing" or not. Absolute and utmost confidentiality guaranteed herein. Your specific location is not so important. The details, documents, emails, telephone numbers, proof of payments, etc. is what we need to start our covert investigations with. Remember if it happened online we investigate worldwide.
We will request further particulars from you and once we have what we require we activate our investigative services professionally, discreetly and covertly. Once investigations concluded, we revert with our findings and you get the results. Unfortunately negative results sometimes, but it is not always the case. Your online lover might be a real person in need of real assistance and not an online romance scammer. If you have any doubts whatsoever, contact us and we investigate the matter for you fully.
P
lease be advised that we charge a professional fee for rendering our services globally and you need to schedule a call with us (online) in order to make use of our services worldwide.
Romance scammer asked you for money? Trying to get your funds back?
Contact us immediately. You running out of time. Certain procedures need to be followed in order for you to stand a chance of getting your funds or at least some dividends back, lost in a romance scam. The banks we work with in turn, work closely with all the major banks in the world, and we work very closely with all the major banks in
South Africa
including Standard Bank, Absa Bank, First National Bank, Capitec Bank, Nedbank and many others
.
Private Investigators in Pursuit of Excellence
:
Patrick de Marco (private investigator) supplies a highly confidential service to private individuals and companies in South Africa, Africa and abroad. He
has been a fully qualified CID detective since 1988 and he investigates romance scams internationally.
"Undeniably Exclusive and Simply the Best"
Call 24 Hours: +27846778731
References
*We do not supply references at all. Our client base remains strictly confidential. We respect non-disclosure agreements, and we guarantee professionalism, integrity, dedication and confidentiality. All rights are reserved.
Professional Resume Schedule Call Schedule Appointment
"ipsa scientia potestas est" - "knowledge itself is power"