Corporate Investigator Cape Town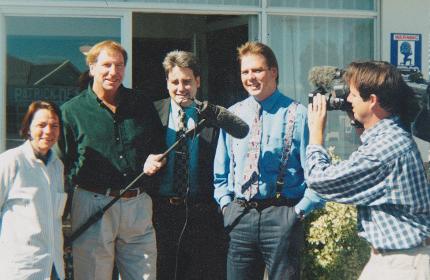 Patrick de Marco PI
Internationally recognised as a top corporate investigator in Cape Town, Patrick de Marco has had some of his successful investigations featured on television programs like Carte Blanche (M-Net South Africa) as well as in local and international media publications, including The Sunday Times, The Readers Digest and various others.
Consultations
Patrick de Marco consults nationally in South Africa and by appointment only. His strategic services, corporate investigations and intelligence gathering assignments are activated nationally or even internationally within a few hours of taking instructions.
Professionalism, integrity, dedication and confidentiality is guaranteed.
Corporate Investigations in Cape Town:
The business world in Cape Town and in South Africa can be cut-throat, with developments like potential business mergers, new partnerships or ventures a source of great anxiety. How do you know if your new business partner is legitimate? How do you know your information is not being made available to your competitors? Business risk is one of the greatest threats to companies, be it external or internal ('insider threats' can do as much damage as outsiders). It is therefore crucial to understand that, when it comes to business decision-making, as well as protecting your company's financial interests, business operations and reputation, nothing can be left to chance.
With commercial fraud, embezzlement, theft of intellectual property, security breaches and misconduct on the rise, it is more important than ever to know whether or not you can trust people or companies you are planning to do business with. White-collar crime is an unfortunate reality in South Africa – the media is full of such stories, which is why it is essential to be able to make sound, fact-based judgements in the complex, high-stakes corporate environment. This is where a corporate investigator and corporate intelligence gathering comes into play – it can both uncover unlawful activity and prevent same from occurring in future.
Corporate and legal clients should expect nothing less than rigorous, confidential corporate investigations into business partners, suppliers, counter parties and a variety of transactions. Mitigating threats today spells corporate survival tomorrow!
Just some of the strategies employed by a corporate investigator in Cape Town include:
Legal surveillance

Human intelligence gathering through interviews

Witness and asset tracing

Background checks

Information gathering from databases, formal and social media

Data recovery

Computer and network forensics

Forensic accounting

Cellular forensics
Hiring a Corporate Investigator in Cape Town:
Hiring a corporate investigator to amass credible evidence can answer many of your questions and ensure peace of mind, as well as protect you from potential litigation and damage to your company and reputation.
Patrick de Marco Corporate Investigator Cape Town:
Patrick de Marco undertakes exclusive corporate investigations in Cape Town
and in most of the metropolitan areas in South Africa. His national intelligence gathering network of private investigators and private detectives (in pursuit of excellence) can activate confidential private investigations anywhere in Cape Town, within a couple of hours. These private investigations and surveillance services include the investigation of a variety of civil and criminal matters anywhere in South Africa.
"Undeniably Exclusive and Simply the Best"
Call 24 Hours: +27846778731
References
*We do not supply references at all. Our client base remains strictly confidential. We respect non-disclosure agreements, and we guarantee professionalism, integrity, dedication and confidentiality. All rights are reserved.
Professional Resume Schedule Call Schedule Appointment