Insurance Claims Investigations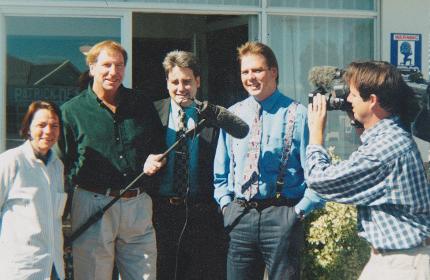 Patrick de Marco PI
Internationally recognised as a top insurance claims investigator, Patrick de Marco has had some of his successful investigations featured on television programs like Carte Blanche (M-Net South Africa) as well as in local and international media publications, including The Sunday Times, The Readers Digest and various others.
Consultations
Patrick de Marco consults nationally and by appointment only. His strategic services, insurance investigations and intelligence gathering assignments are activated nationally or even internationally within a few hours of taking instructions.
Professionalism, integrity, dedication and confidentiality is guaranteed.
Insurance Claims Investigator:
Hire insurance claim investigators. As the leading insurance claims investigator in South Africa, Mr Patrick de Marco correlates sensitive intelligence gathering and private investigative requirements for insurance companies in South Africa and abroad.
Disability Claims and Workers Compensation Claims
:
For more than two decades we have provided investigative services to insurance companies, independent businesses and attorneys.
Nationwide, insurance companies consistently recognise the professionalism of our investigation teams. Our teams operate everywhere in South Africa as well as in the rural areas and in all the townships.
We have a dedicated team of professional fraud investigators that specialise in worker's compensation, medical malpractice, short term or long term disability, corporate, auto, marine and all liability type claim investigations.
Our professional staff is highly experience and skilled in securing evidence that will assist your claims handler or adjuster with determining if an individual has filed a potentially fraudulent insurance claim. We do insurance surveillance and investigations everywhere in South Africa including the following areas:
Soweto, Tembisa, Katlehong, Umlazi, Soshanguve, Khayelitsha, Mamelodi, Mitchell's Plain, Daveyton / Etwatwa, Sebokeng, Mangaung, Ivory Park, Botshabelo, Alexandra, Kwa-Mashu, Vosloorus, Mdantsane, Meadowlands, Tsakane, Thabong, Evaton, Embalenhle, Secunda, Kagiso, Mabopane, KwaNobuhle, Saulsville, Jouberton, Thokoza, KwaThema, Guguletu, Diepsloot, Ga-Rankuwa, Seshego, Edendale, Osizweni, Orange Farm, Hlubi, Duduza, Mpumalanga, Matsulu, Mahwelereng, Sharpeville, Namakgale, Ipelegeng, Mankweng, Imbali, Ntuzuma, Madadeni and others.
Maritime, Charterers, Cargo and Shipowners Liability Insurance Investigations:
We also investigate various maritime, charter, cargo, shipowner, crew member, marine, illness, personal injury and operators liability insurance matters for marine insurance companies and insurance underwriters worldwide and in South Africa.
Insurance Investigators in Pursuit of Excellence
:
Patrick de Marco (insurance claims investigator) supplies a highly confidential service to insurance companies in South Africa. He undertakes insurance investigations in Cape Town, Johannesburg, Durban, East London, Port Elizabeth, George, Bloemfontein, Pretoria and in most of the metropolitan areas in South Africa. His national intelligence gathering network of insurance investigators and private detectives (in pursuit of excellence) can activate confidential insurance investigations anywhere in South Africa within a couple of hours. These insurance investigations and surveillance services include the investigation of a variety of insurance matters in South Africa and environs.
"Undeniably Exclusive and Simply the Best"
Call 24 Hours: +27846778731
References:
We do not supply references at all. Our client base remains strictly confidential. We respect non-disclosure agreements, and we guarantee professionalism, integrity, dedication and confidentiality. All rights are reserved.
Professional Resume Schedule Call Schedule Appointment