Municipality Fraud Investigators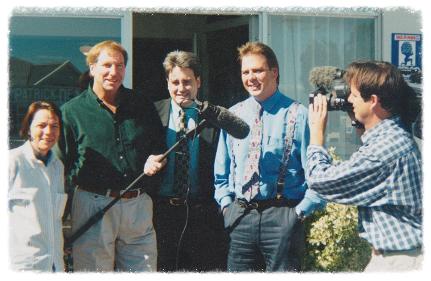 Patrick de Marco PI
Internationally recognised as a top private investigator, Patrick de Marco has had some of his successful investigations featured on television programs like Carte Blanche (M-Net South Africa) as well as in local and international media publications, including The Sunday Times, The Readers Digest and various others.
Consultations
Patrick de Marco consults nationally and by appointment only. His strategic services, private investigations and intelligence gathering assignments are activated nationally or even internationally within a few hours of taking instructions.
Professionalism, integrity, dedication and confidentiality is guaranteed.
MUNICIPALITY FRAUD AND CORRUPTION
This fraud and corruption prevention strategy outlines the plan on how the municipality will go about implementing its fraud and corruption prevention policy. It links closely to the municipality's vision and supports its values of openness, honesty and performing to the highest standards. Financial sustainability, maintaining a track record of successive unqualified audits and zero tolerance to fraud and corruption will remain crucial priorities, which then must progress towards clean audit outcomes. National Government has expressed concern about the state of local governments, and has identified various initiatives to redress the perilous state in which many municipalities across the country find themselves. Fraud prevention is about changing organisational features that allow fraud to occur and possibly go unnoticed or unreported. Fraud control is an essential element of sound corporate governance and internal risk controls.
OBJECTIVE
The objective of this strategy is to cover a wide range of activities from such minor transgressions as the misappropriation of office stationery by a staff member to more serious crimes such as fraud, corruption, the misrepresentations by senior management and councillors to council, the public and creditors, and the misuse of confidential information.
LEADERSHIP
Council and management must provide policies, procedures and internal controls for municipality that ensures the public, staff members and government that the municipality promotes a responsive, accountable, effective and efficient municipality. Control activities are policies and procedures, which are the actions of people to implement the policies, to help ensure that management's risk responses are carried out.
INTERNAL CONTROL
Internal control is an integral part of risk and fraud management. Control procedures relate to the actual policies and procedures in addition to the control environment that management has established to achieve the department's objectives. Policies and procedures help create boundaries and parameters to authority and responsibility, and also provide some scope of organisational precedent for action. Legislative compliances checklist should be developed, monitored and maintained. The roles and responsibilities are clearly set out in the Fraud and Corruption Prevention Policy. This is the most important measure because the risk of processing an irregular transaction is minimised where every transaction is reviewed systematically.
AWARENESS, TRAINING AND DEVELOPMENT
Ensure that staff understands that the internal controls are designed and intended to prevent and detect fraud and corruption or any other dishonest activities of a similar nature. Awareness, training and development programs should be included in the Risk Management Implementation plan.
EMPLOYEE SCREENING
Potential new members of staff should be screened before appointment, particularly for posts with financial responsibility.
STANDARD TENDER AND CONTRACT DOCUMENTATION
Senior managers involved in the issue of tender and contract documentation shall ensure anti-corruption clauses are included in documentation. This will not strengthen the municipality's legal position in the event of attempted fraud or actual corruption, because this is covered by legislation. However, it may act as an effective reminder to contractors, suppliers and the municipality's own employees that selflessness is required in commercial relationships.
DECLARATION OF INTERESTS
Open cultures are less conducive to fraud and irregularity than secretive ones. For this reason the need for councilors to declare and register their interests is required. There is a need for staff to declare and register their interests where appropriate. Staff at many levels will have an opportunity to influence the choice of suppliers and contractors. Management procedures should recognise this and should ensure that the selection of suppliers and contractors always reflects the best interests of the municipality and not the personal or family interest of any member of the municipality.
DETECTION
No system of preventative measures can guarantee that municipality fraud will not occur. The municipality can, however, implement detection measures to highlight irregular transactions. Correct investigation techniques ensure that any matters highlighted through audit and detection methods are handled in an unbiased, professional manner. Matters need to be handled having regard to Industrial Relations guidelines to minimise the risk of claims for unfair dismissal should this course of action be taken. The requirements of the whistleblowers policy must also be considered.
RISK ASSESSMENT
Risk Management is about the identification, evaluation and minimisation of identifiable risks. The Council's risk assessment process must be ongoing and be sufficiently robust to enable all key fraud risks to be identified. Risk assessment should address both the internal and external environments of the Council and they should cover all functions and operations to establish the level, nature, form and likelihood of risk exposure. Fraud can be minimised through carefully designed and consistently operated management procedure, which deny opportunities for fraud. The classic way to guard against fraud in financial systems is separation of duties, so that no individual has undue management of payments, income or assets. Accountability is the key to providing a deterrent to fraud and theft. Training conveys the organisational culture to the staff and gives them sufficient confidence and direction to implement the policies and procedures.
FRAUD MONITORING AND REPORTING
The municipality will on on-going basis, monitor, measure and report on implementation of fraud management to evaluate, remedy, and continuously improve the organisation's fraud detection techniques. If deficiencies are found, management should ensure that improvements and corrections are made as soon as possible. Management should institute a follow-up plan to verify that corrective or remedial actions have been taken.
REVIEW AND APPROVAL OF THE STRATEGY
The Risk Management Committee shall annually review this strategy and determine its adequacy and effectiveness for current circumstances and recommend to Council for approval of any amendments that may be required.
FRAUD, CORRUPTION AND ACCOUNTABILITY
Defining corruption has become a point of exploration by a wide variety of social scientists because of the phenomenon's diversity, complications, and social political and economic roots. It is an octopus-like social reality where psychology, social realities, laws, organisational imperatives and systems intermingle. Corruption is evident in both the public and private sector, but the present contribution will focus on the former where the responsibilities and duties of public office and office-holders, accountability and ethics, compliance with law and legally bound rules and regulations are in a seemingly relentless struggle with the social realities of competition, greed, avarice, illegitimate personal interest, machinations, organisational deficiencies, the political/administrative conundrum and the public interest. In the concept and reality of a municipality in South Africa, corruption is a social and economic distortion of local development. Defining corruption thus can be described as a challenge, because of the above reasons and in most cases because the corrupt and the corrupted become faster, more efficient and highly sophisticated. For the purposes of this article corruption will be defined as 'the abuse of entrusted power for private gain' that is generally accepted by a number of the most serious researchers of the phenomenon.
This definition, although general engulfs a number of key elements of the phenomenon. Firstly, it encapsulates the reality that takes place in both the public and private sectors. Secondly, that it is based on the abuse of power and power relations that exist in a state entity or a private sector company. Thirdly, that there is almost always a corrupt and a corrupted.
Within a public sector environment accountability is a sine qua non of ethical and integrity governance. It permeates all levels of the existing structure from leadership to the last cog of the organisational chain. It is directly related to responsibility for actions, decisions, outcomes and policies. It is synonymous with clean politics, integrity-driven administration, ethical governance, and effective implementation. Each and everyone in the hierarchy tasked with specific roles attached to clearly identified employment position encompassing is, or should be obligated to report, explain and be answerable for resulting consequences of their actions.
There cannot be political accountability on the part of elected councillors and civil servants if they do not account, respect and listen to the citizens and the existing legislative bodies, laws, rules and regulations. The aim of a municipality is to follow the principles and practices of ethical accountability that are instrumental in enhancing honesty and integrity while simultaneously elevating the standards of individual and group conduct as well as external factors, such as sustainable economic development and growth.
State rules, regulations and subordination within a given hierarchy do not guarantee accountability. Accountability only becomes a reality when everyone in the organisational chain understands that ethics, integrity, and skills development and upgrading are integral elements instrumental in fulfilling the unique responsibility that underlies an obligation of an employee to achieve the goal, fulfil tasks, and be instrumental in putting people first.
There have been cases, especially in large municipalities where there is a possibility that there is a that a division of key decisions makes it difficult to identify who should be accountable for the results and implementation, creating a in terms of responsibility and accountability. It has been shown elsewhere that the introduction of 'collective leadership' could be seen as a solution. In such a situation the organisation is collectively accountable. Alternatively the criteria for individual responsibility can be broadened so that individuals are held accountable for not anticipating failures in the organisation. It needs to be mentioned that corruption has been the epicentre of research, policies and directions emanating by a multiplicity of transnational organisations and agencies such the Organisation for Economic Cooperation and Development (OECD), the Word Bank as well the international anti-corruption non-governmental organisation (NGO) Transparency International (TI).
Most of these reports deal with the negative effects of corruption on economic growth and, accordingly, tends to see corruption as a particularly serious problem for developing countries as Susan Rose Ackerman (1999), in her Corruption and government. At the beginning of this introduction, it was noted that recent discussion of corruption has been dominated by two assumptions: first, that corruption is largely an economic issue in both its content and its most important effects; and second, that it involves a blurring of the distinction between public and private. It was also noted that these two assumptions often go together with a third that reflects an all too common view of the differences between Western and non-Western societies: that while corruption is universal, its most significant impact is likely to be found in developing countries.
CORRUPTION IN MUNICIPALITIES: THE ROOTS
Municipalities in South Africa and internationally are the state entities that are closer to the people. They are legally-driven, community-based state entities that are driven by the noble principles of the country's Constitution, laws, rules and regulations that base their premises on securing a number of fundamental human rights to citizens that allow a better, reasonably secure normal human social life based of the principles of BATHO PELE ("People First'), satisfaction of basic human needs as Dube (1984) explored in analysing thoroughly the development perspectives for the 1980s. Municipalities are a crucial political, social and economic cog of the whole social organisation and their corruption is fundamental in a comprehension of the nature of social disorganisation in society and the state. This because the fundamental characteristics of the municipality do not differ significantly from other state entities, in terms of organisational structure and imperatives, human and political relationships, performance management systems or assessment and evaluation tools. Fraud and corruption thus emerges largely from the erosion of such relations, by individuals or groups.
In previous attempts the relationship between sociology and other human sciences theories with corruption has been explored (Mantzaris 2014a) and dealt with the realities of 'greed', the spread 'capitalist morality', the consumerist 'ethic' and similar issues. All these realities amalgamate into the creation of a new culture that is as fluid as the ever-changing nature of identity, development, growth and social relations in both their totality and particularities.
Within this context, the issues of accountability and ethics are considered the opposition to 'greed', 'seduction', 'economic elevation' or 'tender tempting' (Baudrillard 2001). Ethical behaviour within a state organ like a municipality is the foundation of personal honesty and rooted in accountability. The potential economic, financial and social advantages of the corrupt and the corrupted if they are not discovered and led where they belong, possibly epitomise the glorification of a 'counter-culture' of anomie and crime devoid of values that elevate integrity, humanity, honesty and value.
Corruption is a context and situation that occurs within a system, structure or organisation and is rooted on levels of moral personal or group weakness, organisational or functional/systemic inadequacies, opportunities provided, leadership shortcomings, an inefficient or corrupt police force, or a combination of all these. When the political or administrative leadership in a municipality are in a conundrum, there are no expectation for organisational honesty, integrity, ethical behaviour and accountability.
The negative synergies are in play in the process of becoming a sub-culture in action. Organisational sociology teaches that managerial or organisational system are subverted from the top where corruption is rooted in the inability of leadership to act ethically or lack efficiency to implement decisions taken and ratified, the middle management or even the bottom layers of its human resources. A failed municipality might be in a state of disintegration because of personal failures, a system's erosion or meltdown, (Bracking 2007) as well as other reasons that will be elaborated later in the article.
TYPES OF FRAUD AND CORRUPTION TO BE FOUND IN MUNICIPALITIES AND
CASE STUDIES
Corruption has often been described in general terms as either 'grand' or 'petty' (petty corruption is also described as 'administrative'). It has been said that grand corruption typically takes place at the top levels of the public sphere, where policies and rules are formulated and executive decisions are made. It also often involves large sums of money (political corruption is another common term that may be used to refer to grand corruption more generally or specifically to the negative influence of money in political campaigns and political parties) (Woods and Mantzaris 2012).
Of course it is extremely difficult if not impossible to tackle all, even most of the multiple types of fraud evident in municipalities. However, the most common of them will be sketched with a number of case studies. Small scale, administrative or petty corruption is the everyday corruption that takes place at the implementation end of politics, where public officials meet the public. Petty corruption usually describes facilitation or grease payments, which are sought and obtained usually by junior officials who are actually or ostensibly rendering a service to the public. A typical example of such an action is the 'fee' that municipal officials receive which is related to tempering with the electricity or water meters which are bridged the meters, so it looks as if the rate payer does not getting water or electricity when in fact he is. In such cases the officials is in cahoots with the designated contractor and share the 'fee'. A small monthly fee is paid to the municipal official who shares it with the contractor. In case the ratepayers' services are cut off because of non-payment; a visit to the right person will suffice.
Other such examples of fraud and corruption include issuing of documents, falsified receipts, fines, charging handling fees, bribes to process documentation and similar cases (Woods and Mantzaris 2012). Petty corruption mostly takes the bribery in relation to the implementation of existing laws, rules and regulations, or in abuse of power in daily situations. It usually involves modest sums of money in any given exchange. However, endemic petty corruption can result in great costs and can place serious stress on the functioning of state systems, in a way comparable to grand corruption. Above all it alienates large numbers of the citizens from both the political and administrative leaderships of the municipality.
Grand corruption on the other hand revolves around large-scale deals involving senior public officials or politicians and companies. It is related both to the amount of money involved as well as to the level at which it occurs – where policies and rules may be unjustly influenced. It involves more money than bureaucratic or "petty" corruption. Grand corruption is sometimes used synonymously, but also unfairly on occasions with political corruption. The word unfairly is used because of the existence in many municipalities of the antagonism between administrative and political leadership over 'corrupt deals' described elsewhere as 'the political/administrative conundrum' (Mantzaris and Pillay 2014b). The State of Local Government in South Africa: an Overview Report (Department of Cooperative Governance and Traditional Affairs 2009) identified problems related with the political administrative interface that led to corruption and fraud as poor financial management, weak civil society formations; intra-and inter-political party issues negatively affecting governance and delivery amongst key elements affecting negatively efficient and effective service delivery. The findings pointed to the reality that relationships amongst political and administrative leaders were on many occasions determined by the access to corrupt relations with potential or existing service providers that ultimately lead to tensions between the political and administrative interface; insufficient separation of powers between political parties and municipal councils; lack of clear separation between the legislative and executive; inadequate accountability measures and support systems and resources for local democracy; and poor compliance with the legislative and regulatory frameworks for municipalities. (Department of Cooperative Governance and Traditional Affairs 2009).
Such a conundrum is related to a 'distinction' between political and administrative corruption. In this sense the most important cog in building present or prospective 'clients' is the balance of power relations among politicians and administrators that in most occasions is based on the connectivity of an individual or group to the ruling party and/or key officials in it (Mantzaris and Pillay 2014b).
Political corruption is characterised by the trading of influence and authority by political leaders, which could lead to the granting of favours, irregularities in campaign funding or, tenders. Such corruption" can "grand" or high level corruption and refers to the misuse of entrusted power by political leaders and n most occasions not only leads to the misallocation of resources, but also perverts the manner in which decisions are made at all levels of a municipality. These realities can be empirically verified in the description of the situation in a number of municipalities in the North West Province where the local government MEC placed Ngaka Modiri Molema district municipality under administration, the fourth such intervention in the province in the past 12 months after Ditsobotla, Matlosana and Maquassi Hills. It needs to be mentioned that Ngaka Modiri Molema is home to the provincial capital, Mafikeng, which is seen to be the hub of significant public resources and business opportunities in the North West.
The infighting in municipalities led to the destabilisation in local government as well as the province as a whole and has affected service delivery negatively. Attempts by the ruling party in the province to make changes at the municipality have been by the dissident ANC councillors. On the other hand in Mogalakwena, Limpopo, a damning forensic report by KPMG implicated former mayor in the abuse of council funds but order was non-existence in the municipality because of the councillor's rebellion. It was the councilors who took a high court interdict blocking the provincial government from appointing an administrator in the municipality. In the ruling, the Judge of the high court in Pretoria said the "disunity" in Mogalakwena had focused on the relentless fight between the Mayor and the municipal manager that led to the Mayor trying to fire the Municipal Manager giving rise to extensive litigation. Such cases confirm that the contest for the control of municipal resources among councilors and administrators cuts across most provinces and in most occasions have a detrimental effect on the struggles for strengthening of effective service delivery (Business Day 2014:8).
Administrative corruption and fraud (also called management fraud) is basically initiated by management or in which management is complicit. It has been used on occasions as fraud is also synonymous with "fraudulent financial statements" i.e. "Fraudulent financial reporting". Therefore, financial statement fraud almost always occurs with the knowledge or consent of management. Reasons why financial statement fraud is committed by managers include, to dispel negative market perceptions; to obtain financial or to obtain more favourable financing terms; to receive higher purchase prices of acquisitions; to demonstrate compliance with accounting conventions; to hide the state of financial health of an organisation; to meet organisation's goals and objectives; to receive performance-related budgets and the like (Woods and Mantzaris 2012).
There have been recent fraud cases where such corruption takes the form and content of systematic corruption one that affects, for example, a whole department or even a whole municipality can have a substantial effect on government revenues it may divert development and growth at a number of levels, or even systemic corruption, that is, kleptocracy of syndicates or government by theft. In this case honesty and ethics are considered a sin and a huge negative developmental impact becomes a reality.
The July 2014 case of the City of Johannesburg belongs in this category when some of the city's major shopping malls, top hotels, leading real estate and high-end car dealers have been colluding to defraud the municipality of more than R200 million. Administrative acts of collusion and corruption had defrauded the council out of millions of rand in rates and taxes, as city officials were colluding with members of the public in a scheme to avoid paying water and electricity bills. This resulted in other customers getting inflated bills, as meters were being manipulated.
Fraud investigations into the massive fraud have led to the arrests of 18, resulting from 48 cases opened with police. The probe also implicated a number of city big businesses and high-profile people who operated as "a massive cartel". The modus operandi used in the fraud scheme included changing the database to reflect properties – both business and residential – as using prepaid meters while they were on conventional meters. Thus, the city failed to bill such properties for services rendered for years, despite high consumption levels. The fraudulent activities included manipulation of property valuations and rates, tampering with meters and illegal connections of water and electricity. The scheme included officials from government departments such as development planning, health, JMPD, revenue, City Power and Johannesburg Water.
he municipality over the years has suffered from a billing and revenue collection crisis as in its 2012/2013 financial report, it was mentioned that the City of Johannesburg had lost R1.3billion worth of electricity in its distribution network, mostly owing to electricity theft alone, excluding the massive R 200 million. Having sketched several common types of corruption, the attention is turned into the conditions that facilitate it.
CONDITIONS THAT FACILITATE CORRUPTION
Corruption is a social, economic and financial outcome based on a number of environments that through particular circumstances are or become devoid of ethics, accountability, integrity and innovative leadership and accountable governance structures. One cannot make comparisons in corrupt practices without taking into serious account of the key significance of a wide variety of factors that differ from municipality to municipality. For example weak governance within a given municipality does not equate to corruption, but lack of skills, incompetence or mismanagement can ultimately lead to fraud and corruption (Mantzaris 2014b).
Corruption can be facilitated when there is systemic and organisational encouragement for someone to become corrupt. When a middle manager close to the political or administrative leadership working in an active capacity receives an active allowance while his/her colleague in a different department but in the same situation does not, the latter official may feel compelled to become corrupt. In the same breath an intern in internal audit who does not receive the agreed stipend has the incentive that encourages him/her to engage in corrupt transactions.
Broken social norms create incentives to participate in corruption, especially when nepotism within a municipality becomes evident both in the administrative or political spheres. When family friends, relatives, and similar cases receive 'special treatment', jealousy, resentment, and antipathy could turn into corrupt activities.
The lack of ethics and accountability amongst leadership in most cases lead to loose, badly organised, weak or inefficient organisational systems and structures at key levels such as human resources, risk management, procurement and financial management. This means that individual or group opportunities for corruption become possibilities or probabilities, leading to personal enrichment and temptation. The size and growth of existing public resources determine and define the possibilities for corruption, and extensive discretion over the allocation of those resources provides opportunities for corrupt behaviour and fraud.
The organisational weaknesses leading to open access to and control over the means of corruption is important for those who take advantage of such situations, hence the possibilities probabilities and ways of taking advantage become a reality. These might include control over an administrative process such as tendering, loose financial and/or weak internal controls.
These realities have been explored empirically in most of their facets by Maserumule, (2008) and Kanyane (2006, 2011), who, utilising different research instruments have provided a picture of how weak financial systems in municipalities lead to corruption and the significance of solid financial systems for a corruption-free environment. The general agreement is that financial management is a significant element in the pursuing of viability in local government.
Deterioration and sometimes disintegration are basically caused by the human and social factors associated with corrupt individuals, groups or syndicates as well as weak, badly managed, dysfunctional financial systems that are open to corrupt practices that lead many municipalities, mostly rural or semi-rural to become not self-viable. Inevitably problems of governance, lack of skills, internal controls, planning and performance mediocrity increase the problems (Mantzaris 2014b).
The national government has over the years has attempted a number tactics and strategies in order to rectify municipal skills deficiency problems so that the entities acquire their capacity to fulfil their legal, procedural and regulatory mandates. This was done through consolidated skills audits within the specific municipalities, secondly by ascertaining the existing level of skills relative to municipal contexts, existing programs evaluation and assessments Ndletyana and Muzoditya (2009). Despite these concerted efforts no significant improvements have been achieved.
Limited risks of exposure and punishment are important conditions facilitating corruption. It is thus extremely difficult to prove the 'usual 10% cash reward' of Departmental Heads in a municipality for tenders under R500 000. This is because the 'reward' is in cash.
In addition fraud and corruption will increase where there are inadequate and ineffective controls. Organisational weaknesses in the supply chain and financial management without a strict but flexible operational policing, detection and prosecution measures enhance corruption. Their lack encourages white-collar crime, which includes a variety of fraud types, schemes, and commercial offences by businesspersons in close collaboration with and public officials. These schemes do not only involve employee-related fraud/corruption such as fake educational qualifications and falsified curriculum vitae and other misrepresentations of relevant personal information, payroll/remuneration scheme such as ghost employees, commission schemes, falsified wages, backdating salary increases, irregular bonuses, overtime abuse amongst others but also irregular promotions, nepotism, irregular loans, illegal gratuities, misclassified expenses, fictitious expenses, duplicated reimbursements, multiple reimbursements and many more (Mantzaris 2014b).
Supply chain and procurement weaknesses lead to corruption and fraud through a variety of means such as fictitious quotes, fictitious invoices, discounts, ghost suppliers, manipulated "preferred supplier" list/s, shell companies, principal/agent schemes, hiring policy, tendering schemes, various forms of bribery, kick-backs, bid rigging, information brokering, manipulation of "preferential procurement" arrangements, manipulation of "Black Economic Empowerment" arrangements, other dishonest assessments and selection of bids. In almost all cases in terms of supply chain and procurement corruption, the latter takes place through the false pretences of a 'private- public partnership' where the corruptor is a member of the private sector and the corrupt is in the public sector (or vice versa) (Woods and Mantzaris 2012).
On the other hand cheque tampering consists, amongst other things, of forged cheques, forged signature/drawer, fraudulent alterations, forged endorsement, altered payee, and concealed cheques, while computer fraud and corruption is related to manipulation of records and transactions, diversion of supplier payments, writing off suppliers' debt, granting unauthorised discounts and rebates, ghost supply companies and fraudulent cheque issuing (Mantzaris 2014b).
ADDRESSING CORRUPTION AND FRAUD
A holistic approach to addressing corruption starts with the human element that has very strong social dimensions, the legal aspects of criminal and corrupt activities and ends with organisational/institutional imperatives and initiatives.
Hence the first step needs to be targeting the strengthening of the personal ethics of public administrative and political officials, and challenging head on the social norms that encourage corruption. Such a step encourages accountability, transparency and public integrity, through continuous communication throughout the organisation, various departments and in the process building a culture of collective leadership in the spirit of African Humanism. This means that there is an urgent need for the creation of a common integrity in a coordinated war room against corruption where integrity driven and collective leadership against corruption epitomises a strong political will amongst everyone. In such an initiative the leadership ceases to be monolithic, it is transformed to innovative in a different context on the basis of the different missions, organisational structures, accountability mechanisms, constraints or opportunities. In this sense the role of an individual leader within a group becomes a problem of an individual versus the collective will (Alimo-Metcalfe 2007; Van Wart 2003). Yukl (2010) has shown that collective leadership negates the artificial separation between managers and leaders, as leadership is transformed into an attitude and a 'way of life'.
Within this context all key decisions in respect to service delivery are shared amongst the heads of departments/sections who have the expertise and knowledge to identify the existing challenges within their respective units, including fraud and corruption issues. It is such collective leadership that cements and maintains higher levels of motivation and commitment within a working environment and strengthens human and professional relationships (Mullins 2007; Harms and Crede 2010:6-8).
Collective leadership against fraud or corruption can be instrumental in establishing a transformational /innovative organisational culture that will be directly involved in the planning and implementation processes accompanied by elaborate strategically designed assessment and evaluation process, planned to monitor the change progress and identify areas that need further development. In such a process the leadership will be able to pinpoint hurdles to positive change and identify possibilities of resistance to it that can be rectified through a 'revitalisation' of the project (Bligh 2003).
One of key elements of the legal processes identified in addressing corruption does not equate only with impeding investigations, criminalisation and prosecution. It is imperative that the corrupt and the corrupted need to be punished as prosecution of corrupt individuals or groups is crucial in demonstrating decisively that corruption is not tolerated and no one, neither the highest municipal administrator official nor multi-millionaire 'tender entrepreneur', is immune from prosecution.
On the other hand it is known to each and everyone involved directly with a municipality, either as an elected or an appointed leader that every single law, rule or regulation that determine the vast majority, if not all, need to be followed in respect to all facets of organisational and institutional aspects of their dictates, including human resources, financial compliance and accountability, measurement tools to assess the need for anti-corruption interventions and evaluation of their success and failures.
Judging from the proliferation of fraud and corruption in the municipalities in the South African press, research reports and publications by academics and civil society activists and organisations, some of which have been mentioned briefly in the present article, it has become abundantly evident that many of the laws, rules or regulation, codes of good conducts, policies or well designed anti fraud or corruption programs are not followed.
Given the diversification and wide variety of corrupt practices, methods, 'soft spot targets', it can be understood that the most important and primary weapon in the fight against corruption is the existence of political will at all levels of the organisational/institutional nexus. This political will cannot be applied through a 'generalist/generic' prevention/detection strategy. It needs to be based on a thorough and systematic approach in the fight against fraud and corruption, based on knowledge, understanding of all legal and statutory fundamentals. Above all a clear, well-researched and analysed specific environmental understanding is important only as a situational context.
This is crucial, as prevention strategies based on national, provincial or local governments 'Anti-Corruption Strategies', tend to ignore social, economic, organisational and human dynamics and particularities at local levels. Such strategies tend to be based on a purely legalistically broad framework that emphasises investigative and prosecutorial functions, and on many occasions lacks the significant element of an awareness-raising citizens' public participation mobilisation that could guarantee an assessment and monitoring feature (Woods and Mantzaris 2012).
As the National Development Plan (2013) envisions the existence of a 'capable state free of corruption' there is a strong belief and possibility that a process will unfold of actions that state institutions, including municipalities will plan and implement aiming at improving the ethics, accountability and performance of public officials. These will most likely include the introduction and strengthening of new and advanced systems for hiring and promoting civil servants and other non-elected public officials as to ensure that they are based on transparency and merit. In addition public officials' quality of work and ethical standards need to be improved by access to education and training programs to enable them to meet the requirements for the appropriate and honorable performance of their public functions.
Public leadership at all municipal levels will be requested to plan, design and implement codes of conduct that take into account the risks, weaknesses and strengths of their municipalities and respond accordingly in order to strengthen their integrity and accountability duties and responsibilities (Mantzaris and Pillay 2014b).
The role of leadership in relation to internal control mechanisms, and awareness strategies, the identification of priority areas for attention and development of controls to limited risks which will enable management to continually assess and update the risk profile (incorporating fraud and corruption risk) are important aspects of the process. Within this context the risks in terms of Assets and inventory management, Procurement/Supply Chain Management, Conflict of interest, Project management and maintenance, Contracts management, Compliance and delegations of authorities, Budget control, Creditor's payments, Revenue enhancement, Payroll and claims are key issues to be taken care of.
The existence and implementation of a fraud and corruption response plan proposed needs to be supplemented by educational and awareness mechanisms, of laws, systems, functions rules and procedures as well as the creation of innovative communication systems, and on-going maintenance and review mechanisms is an urgent necessity (Mantzaris and Pillay 2014a).
Within this context the role of internal audit and independent reviews of the effectiveness of internal controls, corrective actions and identification of risks are of importance, especially in relation to the roles of employees' at all organisational levels.
The role and significance of an organisational fraud and corruption prevention plan, as a guide to all employees needs to be emphasised, together with its aims, objectives and key operational dynamics and components. This needs to be supplemented by the operationalization, assessment, monitoring and evaluation of internal controls, prevention controls, and levels of authorisation, as well as detection of controls such as arithmetic and accounting and physical (Mantzaris and Pillay 2014b).
The active inclusion of citizens in the business of government also needs special mention accompanied by the strengthening access to information and encouragement of the participation of citizens in decision-making. Access to information is achievable when there are secure and reliable information storage systems in government to preserve documents particularly those relating to public expenditure. Civil society groups can be encouraged to have a meaningful role in policy formation and holding political actors to account (Mantzaris and Pillay 2014b).
These, and many more preventive measures, are concerned with building transparent, accountable systems of governance and thus limiting risks and opportunities for fraud or corruption.
FRAUD & CORRUPTION PREVENTION STRATEGY
The strategy is also established to give effect to the various legislative instruments relating to fraud and corruption, as to set down the stance of zero tolerance to fraud and corruption, and to assist internal audit and risk management to reinforce existing policies, systems and procedures.
INTERNAL CONTROL ACTIVITIES
The municipality's aim is to have sound financial systems and procedures, which incorporate efficient and effective internal controls. The municipality has to develop and maintain a fraud and corruption prevention hotline that is free to all stakeholders within the municipality.
CONCLUSIONS
The article has hopefully shown that human relations, power relations and organisational imperatives determine the success or failure of ethics and accountability as the foundation of the perpetual struggle against fraud and corruption in municipalities. The case studies of municipalities in different parts of South Africa showed the variety of types of corruption, where systemic and organisational weaknesses encourage corruption and the lack of ethics and accountability amongst leadership encouraged by the private sector. It is only the adoption of a holistic approach in the efforts to address corruption that is characterised by solutions to the political /administrative conundrum, collective leadership and a strong political will that can solve these problems. The introduction of internal control mechanisms and solid financial management initiatives accompanied by fraud and corruption detection and a response plan for municipalities needs to be the supplement to these initiatives.
PRIVATE INVESTIGATORS AND PRIVATE INTELLIGENCE GATHERING IN PURSUIT OF EXCELLENCE
Patrick de Marco (private investigator) supplies a highly confidential service to upmarket individuals, celebrities and company executives in South Africa. He undertakes exclusive private investigations in Cape Town, Johannesburg, Durban, East London, Port Elizabeth, George, Bloemfontein, Pretoria and in most of the metropolitan areas in South Africa. His national intelligence gathering network of private investigators and private detectives (in pursuit of excellence) can activate confidential private investigations anywhere in South Africa within a couple of hours. These private investigations and surveillance services include the investigation of a variety of civil and criminal matters in South Africa and environs.
These private probes and surveillance services include the investigation of a variety of civil and criminal matters relating to municipality fraud, municipal corruption, procurement fraud, tender fraud, and the like.
"Undeniably Exclusive and Simply the Best"
Call 24 Hours: +27846778731
References
*We do not supply references at all. Our client base remains strictly confidential. We respect non-disclosure agreements, and we guarantee professionalism, integrity, dedication and confidentiality. All rights are reserved.
Professional Resume Schedule Call Schedule Appointment