35 Years in Business. Simply the Best.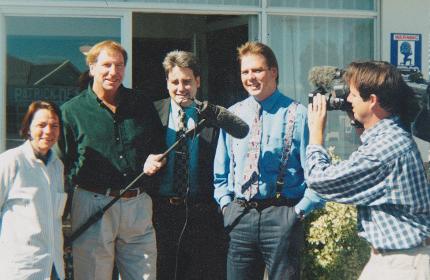 Patrick de Marco Online Fraud Investigator
Internationally recognised as a top fraud and scam investigator, Patrick de Marco has had some of his successful investigations featured on television programs like Carte Blanche (M-Net South Africa) as well as in local and international media publications, including The Sunday Times, The Reader's Digest and various others.
Consultations in South Africa
Patrick de Marco consults nationally and by appointment only. His strategic services, private investigations and intelligence gathering assignments are activated nationally or even internationally within a few hours of taking instructions for scam fraud investigations.
Professionalism, integrity, dedication, and confidentiality are guaranteed.
Patrick de Marco consults locally, nationally or internationally:
Patrick de Marco usually consults and undertakes scam or scammer investigations in South Africa but also activates romance scam investigations nationally or internationally if and when required. As the leading scam investigator in South Africa, Patrick de Marco correlates sensitive intelligence gathering and private investigative requirements for celebrities, affluent individuals and the general public.
Contact Patrick de Marco today if you require local, national or international assistance regarding private intelligence gathering assignments or for a highly confidential suspected fraudulent scam investigation locally or globally.
With a Global Intelligence Gathering Footprint, Investigations in South Africa also Include
:
Private Investigations:
Background vetting,

Celebrity & VIP matters,

Civil investigations,

Civil and criminal intelligence gathering,

Criminal investigations,

Cheating spouse investigations,

Cheating partner investigations,

Financial profiling,

Fraud investigations,

General investigations,

Infidelity investigations,

Internet investigations,

Internet romance scams,

Medical negligence and malpractice investigations,

Missing persons,

Investment scams,

Covert investor screening,

Hidden assets,

Adoptions.
Commercial Investigations:
Aerial surveillance services,

Aviation matters,

Biometric access control,

Business intelligence,

Covert and undercover investigations,

Criminal investigations,

Corporate theft investigations,

Commercial fraud investigations,

Forensic investigative services,

Financial profiling for companies,

Intellectual property and copyright infringement,

Import and export fraud investigations,

Long term undercover agent placements,

Risk and vulnerability assessments,

Surveillance and counter surveillance,

Technical surveillance countermeasures,

Video and photographic surveillance,

White collar and pink collar fraud investigations.
Corporate Investigations:
CCTV cameras & control rooms,

Cyber crime detection,

Detection of interceptors,

Fraud and corruption,

Intelligence gathering,

Procurement fraud investigations,

Risk and vulnerability assessments,

Tender fraud investigations,

Undercover agents,

Surveillance counter measures.
Unlike most "scam detectives", Patrick de Marco Concierge is a premium, bespoke Private Investigation Firm. We invest countless hours in implementing our trade-secrets and dozens of specialised techniques into each mandate we receive. The difference between success and failure is attention to detail and decades of expertise. Beware of "private detectives" accepting tiny budgets for scammer or scam investigations in South Africa. They won't be able to dedicate the time and effort to produce results for the client, nor can they afford to employ the top professionals in the industry to gather intelligence when it comes to very sensitive intelligence gathering and especially investigating high level scams or romance scams.
Scam Investigators in Pursuit of Excellence
:
Patrick de Marco supplies a highly confidential investigation service to upmarket individuals, celebrities, company executives and the general public who requires online fraud, con artists, scammers, scams or romance scammers to be investigated in South Africa. His national intelligence gathering network of private detectives (in pursuit of excellence) can activate confidential private investigations anywhere in South Africa or Africa within a couple of hours.
His professional investigations and romance scam investigative services include the investigation of various scammers or suspected scammers in Johannesburg, Pretoria, Bloemfontein, Cape Town, Durban, East London, Port Elizabeth, Sandton, Sandhurst, Clifton, Hout Bay, Stellenbosch, Somerset West, Paarl, Franschhoek, Strand, Camps Bay, Bantry Bay, Llandudno, Mouille Point, Bakoven, Fresnaye, Sea Point and basically anywhere in South Africa. So contact us now before it is too late.
"Undeniably Exclusive Service and Simply the Best"
Call 24 Hours: 0846778731 or +27846778731
Clifton, South Africa
Click to Email:
References:
We do not supply references at all. Our client base remains strictly confidential. We respect non-disclosure agreements, and we guarantee professionalism, integrity, dedication and confidentiality. All rights are reserved.
Professional Resume Schedule Call Schedule Appointment
35 Years in Business. In Pursuit of Excellence.
Get the proof you need. Top choice for lawyers, companies and families in South Africa and abroad.
.