35 years in Business. Best Divorce Investigator
.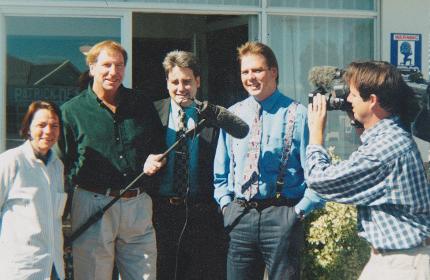 Patrick de Marco (Private Eye)
Internationally recognised as a top private investigator, Patrick de Marco has had some of his successful investigations featured on television programs like Carte Blanche (M-Net South Africa) as well as in local and international media publications, including The Sunday Times, The Reader's Digest and various others.
Consults in Person or by Phone
Patrick de Marco consults in person for private investigations in Cape Town, Durban or Johannesburg but also telephonically if required. His strategic services, private investigations and intelligence gathering assignments are activated nationally or internationally within a few hours of taking instructions in South Africa.
Professionalism, integrity, dedication, and confidentiality are guaranteed.
Divorce:
Not sure if you must get a divorce? Get proof of affairs and make sure you going to get child custody or closure before you divorce. Highly confidential and professional divorce and child custody investigations.
Grounds for divorce vary widely from country to country. Marriage may be seen as a contract, a status, or a combination of these. Where it is seen as a contract, the refusal or inability of one spouse to perform the obligations stipulated in the contract may constitute a ground for divorce for the other spouse. In contrast, in some countries (such as Sweden, Finland, Australia, New Zealand, and South Africa), divorce is purely no fault. This means it does not matter what the reasons are that a party or parties want to separate. They are free to divorce without having to prove who was at fault.Many jurisdictions offer both the option of a no-fault divorce and an at-fault divorce. This is the case, for example, in many states of the US, France, and the Czech Republic.
Though divorce laws vary between jurisdictions, there are two basic approaches to divorce: fault-based and no-fault-based. Even in jurisdictions where a party is not required to blame their partner, a court may consider the parties' behaviour when dividing property, assessing debts, determining custody, making shared care arrangements, and providing support.In some jurisdictions, one spouse may be forced to pay the attorney's fees of another spouse.
Laws vary as to the waiting period before a divorce is effective. Also, residency requirements vary. However, issues of division of property are typically determined by the law of the jurisdiction in which the property is located.
In Europe, divorce laws differ from country to country, reflecting differing legal and cultural traditions. In some countries, particularly (but not only) in some former communist countries, divorce can be obtained only on the single general ground of "irretrievable breakdown of the marriage" (or a similar formulation). Yet, what constitutes such a "breakdown" of the marriage is interpreted very differently from jurisdiction to jurisdiction, ranging from very liberal interpretations (e.g., in the Netherlands) to quite restrictive ones (e.g., in Poland, there must be an "irretrievable and complete disintegration of matrimonial life," but there are many restrictions to granting a divorce). Separation constitutes a ground for divorce in some European countries (in Germany, e.g., a divorce is granted on the basis of a 1-year separation if both spouses consent or a 3-year separation if only one spouse consents). Note that "separation" does not necessarily mean separate residences; in some jurisdictions, living in the same household but leading a separate life (e.g., eating, sleeping, socialising, etc. separately) is sufficient to constitute de facto separation; this is explicitly stated, e.g., in the family laws of Latvia or the Czech Republic.
Divorce laws are not static; they often change to reflect the evolving social norms of societies. In the 21st century, many European countries have made changes to their divorce laws, in particular by reducing the length of the necessary periods of separation, e.g., Scotland in 2006 (1 or 2 years from the previous 2 or 5 years); France in 2005 (2 years from the previous 6 years); Switzerland in 2005 (2 years from the previous 4 years); and Greece in 2008 (2 years from the previous 4 years). Some countries have completely overhauled their divorce laws, such as Spain in 2005 and Portugal in 2008. A new divorce law also came into force in September 2007 in Belgium, creating a new system that is primarily no-fault. Bulgaria also modified its divorce regulations in 2009. Also in Italy, new laws came into force in 2014 and 2015 with significant changes in Italian law in the matter of divorce: apart from the shortening of the period of obligatory separation (6 months for consensual separations and 1 year for contested ones from the previous 3 years), other forms of getting a divorce are allowed as an alternative to court proceedings, i.e., negotiations with the participation of an advocate or agreements made before the registrar of the Public Registry Office. Austria, by contrast, is a European country where the divorce law still remains conservative.
The liberalisation of divorce laws is not without opposition, particularly in the United States. [citation needed] Indeed, in the US, certain conservative and religious organisations are lobbying for laws that restrict divorce. In 2011, in the US, the Coalition for Divorce Reform was established, describing itself as an organisation "dedicated to supporting efforts to reduce unnecessary divorce and promote healthy marriages."
The magisterium of the Roman Catholic Church bases the concept of marriage on natural moral law, elaborated by St. Thomas Aquinas, supplemented by the revealed Divine law. Throughout history, the Eastern Orthodox Church has shared some of the Doctor Angelicus' doctrine. Many clients in South Africa hire a private investigator to obtain closure before divorcing.
Private Investigators in Pursuit of Excellence
:
Our national intelligence gathering network of private investigators and private detectives (in pursuit of excellence) can activate confidential private investigations in Cape Town, Johannesburg, Bloemfontein, Pretoria, Durban, East London, Port Elizabeth, George, Knysna, or anywhere in South Africa within a couple of hours.
These private investigations and surveillance services include the investigation of a variety of civil, criminal and personal matters in South Africa or abroad.
"Undeniably Exclusive Service and Simply the Best"
Call 24 Hours: 0846778731 or WhatsApp +27846778731
SOUTH AFRICA
Click to Email:
References:
We do not supply references at all. Our client base remains strictly confidential. We respect non-disclosure agreements, and we guarantee professionalism, integrity, dedication and confidentiality. All rights are reserved.
Professional Resume Schedule Call Schedule Appointment
35 Years in Business. Get the proof you need.
Top choice for lawyers, companies and families looking for divorce investigators in South Africa.
.