Need Funds to Roll out Internationally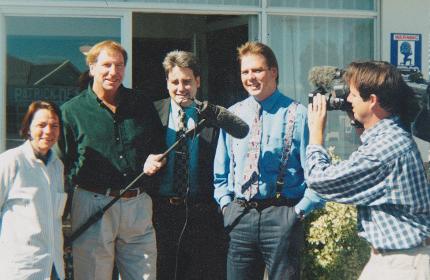 Who is Patrick de Marco?

Internationally recognised as a top private investigator, Patrick de Marco has had some of his successful investigations featured on television programs like Carte Blanche (M-Net South Africa) as well as in local and international media publications, including The Sunday Times, The Reader's Digest and various others.
Prop-Tech Company Looking for Investors

I am also representing a Stellenbosch Prop-Tech company embracing an innovative online approach to the international real estate markets looking for investors, investments and funding to roll their company out worldwide.

They need funding to roll out to and operate in 197 countries.
THE INTERNATIONAL INVESTMENT OPPORTUNITY:
Updated: 25 November 2022

I have been mandated by an online company (Prop-Tech) in Stellenbosch, South Africa to find angel investors for them, meet with these investors, present the investment opportunity, and to arrange further meetings with the company executives if and when required.
Max 30 min meeting (including the presentation) can be held anywhere in Stellenbosch, Paarl, Somerset West, Franschhoek or Cape Town to introduce the global investment opportunity to you. Call me or email me to find out more or to set up a meeting with you. Thank you.

The company is currently operating directly in the prop-tech sectors of countries across the globe.

The company consists of a specialized online platform dealing in the real estate, mortgage, lending and building industries.


The company is online and has successfully rolled out in 60 English speaking countries already.

The company took 8 years to complete the online testing and beta phases.

The company needs funding to now roll out to the next 137 countries in order to reach the target market of 197 countries.

The company is a registered private limited company.

About the Opportunity:
The world is going online at a tremendous pace.

The best time to invest in online companies is now.


The best sector ever to invest in is real estate or property.

The current opportunity involves a company that is currently operating in all of the above sectors.

About your Investment:
Your investment will give you or your company a worldwide strategic footprint in other countries.


Your investment

will give you market share in South Africa and 190 other countries' property markets.


Your investment will be a strategic equity investment in the company.

Your investment can be that of a silent partnership if required.

Your investment will cost exactly R 20 million (South African Rand) per 1% per centum ownership.


Your investment will be used for marketing and operational capital to roll the company out to more countries.

Your investment will be used for 70% marketing and 30% operating costs. See below.
Addressable Market:
International real estate, mortgage, building, and construction industries.
The company is planning to capture 2-3% of the international markets in 3-7 years.
Additional Capital:
Will be required to increase the above market share if and when required.
Opportunity and Business Model:
Busy building the "Amazon" of the above industries.
Invest in a company that will grow significantly and become an exciting online business.
Revenue Streams:
For now, two revenue streams.
Fees.
Advertisers.
After reaching market share, there will be two additional revenue streams.
Financial Projections:
Not going to entertain spreadsheets here for now.
The company will be a multi-billion dollar company when they capture 2-3% of the international markets.
Financial Requirements:
R100 mil (ZAR) to reach critical mass.

Burn Rate:
R100 mil (ZAR) will be spent over 3 years.
Operating and Marketing:
70% Marketing.
30% Operating.
First Round Funding:
For early stage investors, now selling only 5%
R20 million (ZAR) for one (1) percent ownership.
Initial investors in Amazon received a growth of 950 000%
Second or Third Round Funding:
Only if required.
Will then sell an additional 25% to investors.
Two exit strategies:
Within the next 3-7 years.
Going public, or selling to a publicly traded acquirer.
International Marketing Plan:
70% Online.
25% Print Media.
05% Agents and Call Centres.
Why this page on my website?
I am also a private investigator in South Africa. For 35 years now. Find all my usual details (below the line) that are currently online and for the world to see. But, with this specific page I am hoping to at least give some credibility to the investment opportunity and the company in Stellenbosch, South Africa I am representing.
As soon as they have received the required and sufficient investment to roll out worldwide you will no longer see this and this page will disappear from my website. No I am not being paid by them to do this or using this page as a landing page to get clients for my intelligence gathering business. I have created this landing page purely to find credible investors for the above company.

Yes I have an interest in the company and I have already invested in the early stages as well (including the completed online beta phases per se). It's now time to get more funding for them to roll out internationally. Print or bookmark this page if you are interested in investing because when you leave here there will be no links from my main website back to this page! Contact me regarding the above and we can get in touch. No agents or representatives please. Thank you.
------------------------------------------------------------------------------------------------------------------------------

Unlike most "private investigators", Patrick de Marco Concierge is a premium, bespoke Private Investigation Company in South Africa. We invest countless hours in implementing our trade-secrets and dozens of specialised techniques into each mandate we receive. The difference between success and failure is attention to detail and decades of expertise. Beware of "private investigators" in South Africa who accept tiny budgets.
They won't be able to dedicate the time and effort to produce results for the client, nor can they afford to employ the top professionals in the industry to gather intelligence when it comes to private, commercial, corporate and industrial intelligence gathering.
We also do a lot of private investigations for private clients and companies in the United States, United Kingdom, Australia, Monaco, Switzerland, Sweden, Ireland, France, Italy, but mostly in South Africa.
These private investigations and surveillance services include the investigation of a variety of civil, criminal and personal matters in South Africa or abroad.
"Undeniably Exclusive Service and Simply the Best"
Call 24 Hours: 0846778731 or +27846778731
South Africa
Click to Email:
References:
We do not supply references at all. Our client base remains strictly confidential. We respect non-disclosure agreements, and we guarantee professionalism, integrity, dedication and confidentiality. All rights are reserved.
Professional Resume Schedule Call Schedule Appointment
35 Years in Business. In Pursuit of Excellence.
Get the proof you need. Top choice for lawyers, companies and families in Cape Town, Durban and Johannesburg.
.