Private Investigator Infidelity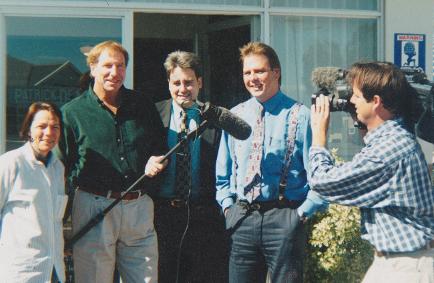 Patrick de Marco Private Investigator
Internationally recognised as a top infidelity investigator, Patrick de Marco has had some of his successful investigations featured on television programs like Carte Blanche (M-Net South Africa) as well as in local and international media publications, including The Sunday Times, The Readers Digest and various others.
Consultations
Patrick de Marco consults nationally and by appointment only. His strategic services, private investigations and intelligence gathering assignments are activated nationally or even internationally within a few hours of taking instructions.
Professionalism, integrity, dedication, and confidentiality are guaranteed.
Signs of Infidelity
Hire a private investigator for infidelity. Suspecting that your partner is having extramarital affairs can be a gruelling experience. While the behaviour of your partner might be pointing towards cheating or infidelity, it is always advised that you gather some evidence before making accusations or taking action.
Hiring a private investigator to assist you will be the best option for those who want the proof they need in order to take control of their lives and move on. Keep in mind that hiring a PI can have the opposite conclusion too; where you find out that your suspicions are incorrect and your marriage can be saved! Having peace of mind is the ultimate goal.
Infidelity or a cheating spouse is a situation that does not discriminate. Anyone can be involved and you can become a victim of it without even knowing. Some signs of your partner having an affair to look out for are listed below:
Leaving for work early or arriving home from work late on a regular basis.

Excessive use of the internet and cell phone (more than usual).

Hours that cannot be accounted for. This is often noticed when your partner cannot tell you where he or she has been.

Going out with friends that you have never met before on a continuous basis.

Your spouse keeps his or her cell phone bill private and ensures that their cell phone is never left lying around.

Lack of interest in sex or new sexual techniques that he or she never had before.
While it may be possible to notice these signs and for an affair not to be happening, it is best to investigate the situation as soon as your suspicions arise. Infidelity which is a case of not honouring your commitment to your romantic partner is a number one cause of relationships falling apart. If this has happened to you, you may be wondering what has gone wrong in your relationship to cause it and why your cheating spouse is hiding his or her intentions and actions from you.
Hiring a Private Investigator
Finding out what exactly the situation is before you confront your partner is absolutely essential and this is where the services of a private investigator may become useful. Finding out what is going on behind your back is the best opportunity to rectify the problem in your relationship, before it's too late. Hire Top Private Investigator Patrick de Marco for infidelity surveillance and infidelity investigations.
Private Investigators in Pursuit of Excellence
:
Patrick de Marco supplies a highly confidential service to upmarket individuals, celebrities and company executives in South Africa He undertakes exclusive private investigations in Cape Town, Johannesburg, Durban, East London, Port Elizabeth, George, Bloemfontein, Pretoria and in most of the metropolitan areas in South Africa. His national intelligence gathering network of private investigators and private detectives (in pursuit of excellence) can activate confidential private investigations anywhere in South Africa within a couple of hours. These private investigations and surveillance services include the investigation of a variety of civil and criminal matters in South Africa and abroad.
"Undeniably Exclusive Service and Simply the Best"
Call 24 Hours: 0846778731 or +27846778731
Click to Email:
References:
We do not supply references at all. Our client base remains strictly confidential. We respect non-disclosure agreements, and we guarantee professionalism, integrity, dedication and confidentiality. All rights are reserved.
Professional Resume Schedule Call Schedule Appointment
35 Years in Business. In Pursuit of Excellence.
Get the proof you need. Top choice for lawyers, companies and families.